Animal Style Burger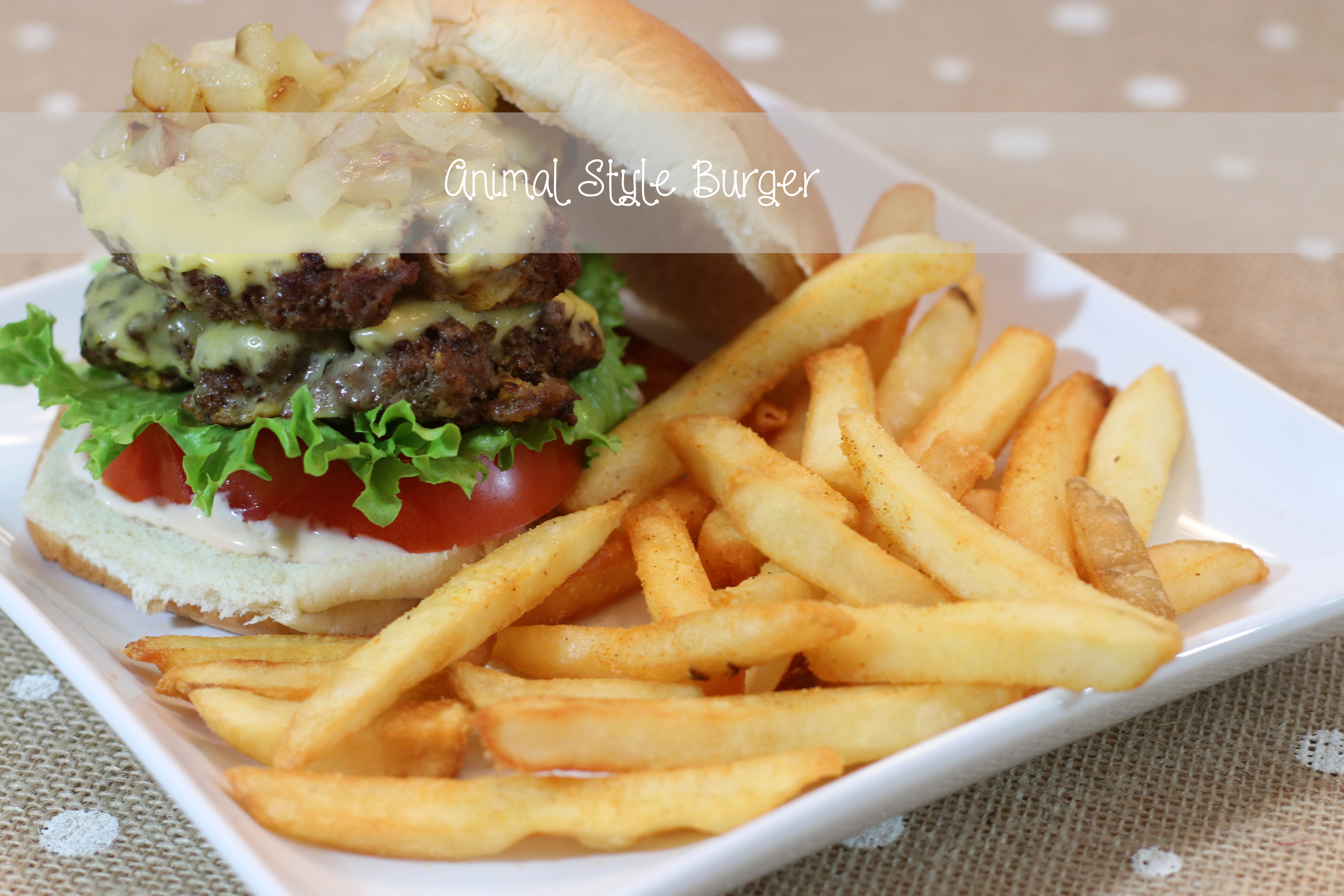 4 tablespoons Vegetable oil, divided
1 cup Onions, finely chopped
kosher salt
¼ cup Mayonnaise
1 tablespoon Ketchup
1 tablespoon Sweet pickle relish
1 teaspoon White vinegar
½ teaspoon Sugar
4 thin Ground beef patties, about ½-in thick
2 teaspoon Yellow mustard
4 slices American cheese
2 white Hamburger buns
Lettuce, for serving
4 Pickle chips
cooked frozen french fries, for serving (optional)
Heat 2 tbsp. of vegetable oil in a large skillet over medium heat. Add the onions and cook until caramelized, about 20 minutes. If the onions are browning too quickly, turn down the heat and add a splash of water. Set aside onions and wipe the skillet clean.
Meanwhile, make the special sauce. Mix together mayonnaise, ketchup, relish, sugar and vinegar in a small bowl. Season to taste and set aside.
Heat the remaining vegetable oil in the pan over medium-high heat. Season both sides of the hamburger patties with salt and pepper before adding them to the pan. Cook for about 2-3 minutes, until the bottoms have developed a nice seared crust. Spread about ½ tsp of yellow mustard on the top (uncooked) side of each patty before flipping. Flip the patties and cook for another minute. Add the cheese slices on top of each patty and cook until the cheese melts.
Top each bottom bun with a heaping tablespoon of the sauce, a tomato slice, pickles and a piece of lettuce. Add a cooked patty to each bun and top each with caramelized onions. Top the onions with another patty each, then top with top bun. Serve with fries (garnished with extra sauce and onions).
Serving size:
1
Calories:
1156
Fat:
92g
Saturated fat:
30g
Unsaturated fat:
10g
Trans fat:
44g
Carbohydrates:
40g
Sugar:
11g
Sodium:
1598mg
Fiber:
3g
Protein:
44g
Cholesterol:
178mg